Experts: China to remain global driver
---
Experts: China to remain global driver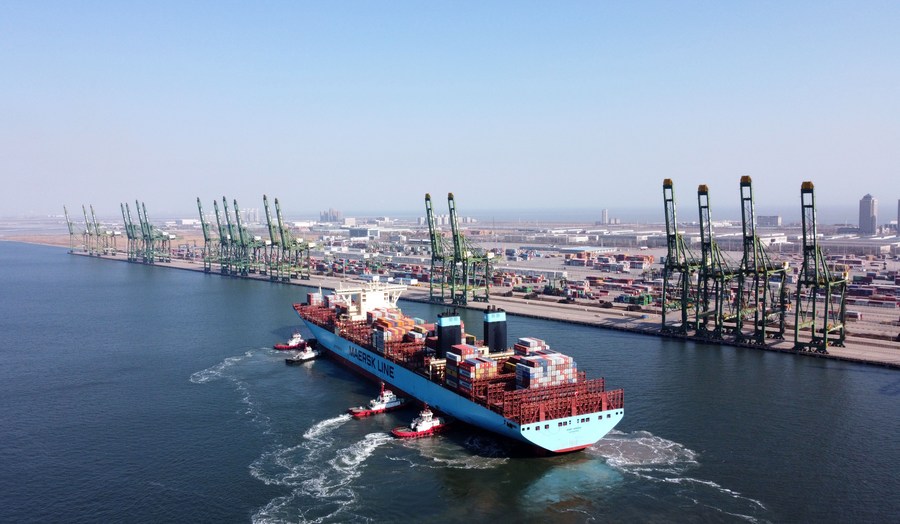 Aerial photo shows a container vessel sailing into Tianjin Port in North China's Tianjin, Feb 22, 2021. [Photo/Xinhua]
With unfaltering commitment to multilateralism and opening-up, China is expected to continue to play an important role in the World Trade Organization and in spurring global economic growth, especially amid a difficult period for international free trade, according to experts and business leaders.
As the world's largest developing country, China has made great contributions to global economic growth. Yet the country faces urgent challenges such as uneven development in its pursuit of high-quality development and common prosperity amid complex domestic and international conditions, they said.
Their comments came as this month marks the 20th anniversary of China's accession to the WTO, while the tone-setting annual Central Economic Work Conference, which concluded on Friday, also urged more proactive efforts to align with the high standards of international economic and trade rules, deepening reform via high-level opening-up, and boosting high-quality development.
"China has made great contributions to the development of the multilateral trading system over the past 20 years, whether from the perspective of abiding by WTO rules, promoting globalization or propelling its own economic growth," said Zhang Yansheng, chief researcher at the China Center for International Economic Exchanges.
China's advocacy of cooperation, instead of confrontation, will be of great value for the WTO to strengthen authority and efficacy and for free trade to progress around the world, as there is a rising anti-globalization sentiment, contraction in global industrial and supply chains, and growing disputes over WTO reforms and development, Zhang said.
Data from the General Administration of Customs showed that China's foreign trade in the first 11 months was worth 35.39 trillion yuan ($5.56 trillion), up 22 percent year-on-year, and more than the 32.16 trillion yuan recorded for the whole of last year.
According to Wang Shouwen, vice-minister of commerce, China has cut its overall tariff rate from 15.3 percent to 7.4 percent in the past 20 years, lower than the 9.8 percent accession commitment.
The central government has reviewed and revised over 2,300 pieces of laws and regulations, and local governments have reviewed over 190,000 such pieces, in order to abide by WTO rules and unleash market vitality.
The current tariff level is lower than that of all developing members of the WTO and close to that of developed members of the organization, Wang said, adding that China has also filed more than 1,000 documents to the trade body regarding adjustments and implementation of domestic regulations to abide by WTO rules.
China will adhere to the principle of balanced rights and obligations, and uphold a pragmatic approach to special rights and favorable treatment in line with its economic development level and capability to promote WTO reforms, safeguard the legitimate rights and interests of developing countries, and defend the multilateral trading system, he added.
Felix Gutsche, senior global vice-president of multinational company Boehringer Ingelheim, said China has become a major promoter of economic globalization by adhering to the philosophy of cooperation, openness and mutual benefit.
"The integration of the Chinese market into the global industrial value chain has resulted in industrial upgrades in China, which have created enormous opportunities for the rest of the world," Gutsche said, who is also president and CEO of the China branch of Boehringer Ingelheim.
However, as China's top leadership acknowledged that the country is facing threefold pressure from contraction of demand, supply shocks and weaker expectations, experts and business executives said the nation needs to step up efforts to progress high-quality development and therefore make greater contributions to global economic growth and multilateralism.
Zhou Xuezhi, a researcher with the Institute of World Economics and Politics, which is under the Chinese Academy of Social Sciences, said although it is the world's second-largest economy, China still lags far behind developed economies in terms of per capita domestic gross product and faces uneven development levels across regions and industries.
China needs to step up efforts to optimize redistribution of income and wealth, while also encouraging increased flows of foreign investment into its interior and western regions, he added.
Zhang, with the CCIEE, said China should better synergize its actions toward goals of increasing productivity, achieving common prosperity and promoting green development.
More efforts are needed to stabilize expectations of market entities, he added.