Winter Olympics' legacy: Booming interest for ice and snow sports
---
Winter Olympics' legacy: Booming interest for ice and snow sports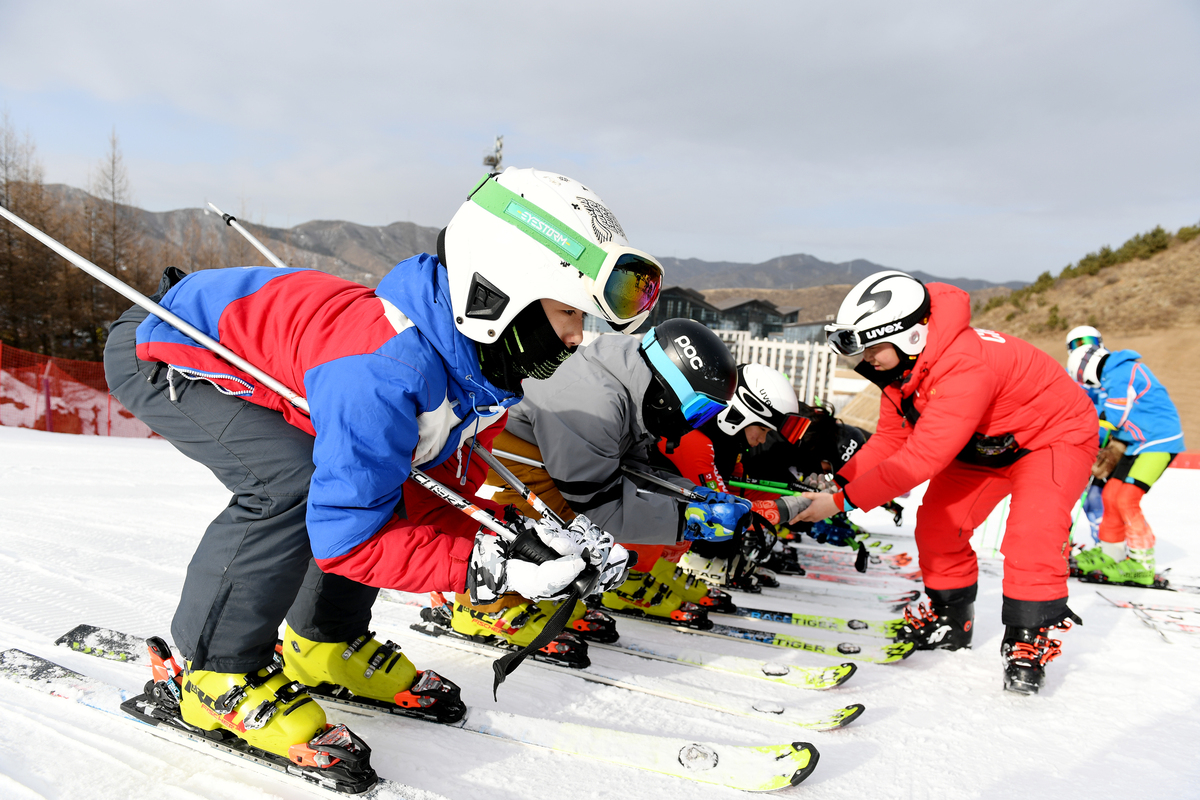 Businesses benefit as tourism, equipment sales soar to 83.56 bln yuan despite pandemic's impact
In the countdown to the February start of the Beijing 2022 Winter Olympic Games, ice and snow tourism has picked up among Chinese consumers.
The Games are also expected to fuel more opportunities for businesses in related fields. With the new snow season beginning in China, enthusiastic skiers and snowboarders have been eager to get back on the slopes.
One drag on the demand for some travel related to winter sports may be the small number of new cases of COVID-19 that have popped up sporadically in some regions. But that will depend on the pandemic prevention and control situation this winter, industry experts said.
Beijing and Zhangjiakou in Hebei province have established a group of venues to provide services for the Winter Games, including the Beijing-Zhangjiakou high-speed railway. Over the long term, that infrastructure is expected to become additional assets for the country's tourism based on ice and snow.
The ski venues in Zhangjiakou, about 200 kilometers northwest of Beijing, will host the snow sports events of the Winter Games. In the past few years, the popularity of the ski resorts there has grown, although a few resorts will be closed for the Games next year.
A number of landmark Winter Games venues were designed with the idea of continuing to drive tourism after the Olympic and Paralympic Games.
"Those venues are expected to become new hot spots after the Games. Aside from traditional sports such as ice-skating and skiing, more innovative entertainment is expected to emerge and create new experiences for consumers," said Cheng Chaogong, chief researcher with the tourism research institute of Suzhou-based online travel agency Tongcheng-eLong.
"The improvement of transportation facilities and other infrastructure has further expanded the growth potential of the cultural and tourism sector in Beijing and in surrounding areas. Zhangjiakou is set to become a landmark destination for winter tourism, and the winter tourism market in Beijing will also get a boost," Cheng said.
Previously, most people who went to ski slopes in Beijing, Tianjin and Hebei province were locals. With major new development in the region aimed at serving skiers, those resorts have been attracting more tourists from other parts of China.
Those tourists aren't just from North China. People from Shanghai and Guangdong and Jiangsu provinces, for example, have shown a great deal of enthusiasm for the Winter Games and ice and snow tourism. The potential increase in the number of tourists from southern and eastern China is bound to give a boost to Beijing's tourism market, according to the Tongcheng-eLong institute.
The Winter Games events that tend to draw the greatest public interest include short track speed skating, speed skating, freestyle skiing, snowboarding and curling, experts said.
Ice and snow sports have become increasingly popular, and lots of people also like to participate in fun activities such as skipping rope in the snow, snow bowling and playing soccer in a field of snow.
Most of China's ice and snow tourism occurs in Northeast China, the Beijing-Tianjin-Hebei region and the Xinjiang Uygur and Inner Mongolia autonomous regions. Besides ski resorts, those regions also have important attractions such as ice sculpting, ice fishing and ethnic cultures, Tongcheng-eLong said.
Tianjin Airlines recently opened new flights to skiing destinations in North China and in northwestern and northeastern areas of the country to boost ice and snow tourism.
In December, bookings at some ski resort hotels in Jilin province have exceeded those of the same period of 2019, before the pandemic, according to Qunar, a Beijing-based online travel agency.
Winter sports also have become more popular among residents of South China. More cities there have built indoor ski slopes with machine-made snow. Nationwide, 36 indoor ski resorts have been built in China, and Sunac Snow Park in Guangzhou, Guangdong province, has become the most popular, Qunar said.
Chongqing, Chengdu in Sichuan province and Guangzhou have seen ticket sales surge for their indoor ski resorts. Also, Yulong Snow Mountain in Yunnan province saw ticket sales this winter grow by 40 percent compared with the same period in the winter of 2019, according to Qunar.
All this has fueled the business of skiing equipment makers. A set of equipment for skiing, including a suit, costs about 3,000 to 10,000 yuan ($470 to $1,568) for average skiers. For professional and serious skiers, a whole set could run 60,000 yuan or more, and limited edition equipment can go for even higher prices, according to Beijing-based think tank EqualOcean.
High prices for skiing-related merchandise have boosted the profitability of retailers. Retail profit margins for snowboard and ski suit retailers are usually 40 to 50 percent, and the margins for helmets and goggles can reach 70 percent.
For ski resorts, the profit margin is usually around 15 percent, with ski instruction offering margins of some 30 to 35 percent, according to enterprise intelligence and management information company MobTech.
"In China, most skiers are mid- to high-income male consumers who live in first-tier and second-tier cities. Most of them are aged between 25 and 34, and their monthly income is above 10,000 yuan," said MobTech.
An increasing number of domestic retailers are joining in the bonanza. Chinese sports clothing brands such as Anta Sports Products, Toread Holdings Group and 361 Degrees have come out with their own ski suits. Others are making personal ski equipment, including Running River and Vector.
Beijing-based Carving Ski Group, a major supplier of equipment such as ice and snow makers and lighting systems, said China's ski equipment market is at its initial development stage and manufacturing technologies still need further improvement.
In China, only 1 percent of the population has caught the skiing bug, far lower than the 35 percent in Switzerland, 9 percent in Japan and 8 percent in the United States. That indicates that the sector has significant room for further growth, according to the China Ski Industry Development Report, produced by Carving Ski Group.
Last year, sales revenue from China's ski market reached 83.56 billion yuan, and sales of skiing equipment reached 12.69 billion yuan, according to market research firm Zhiyan Consulting.