Consumption to go global in Chinese cities
---
Consumption to go global in Chinese cities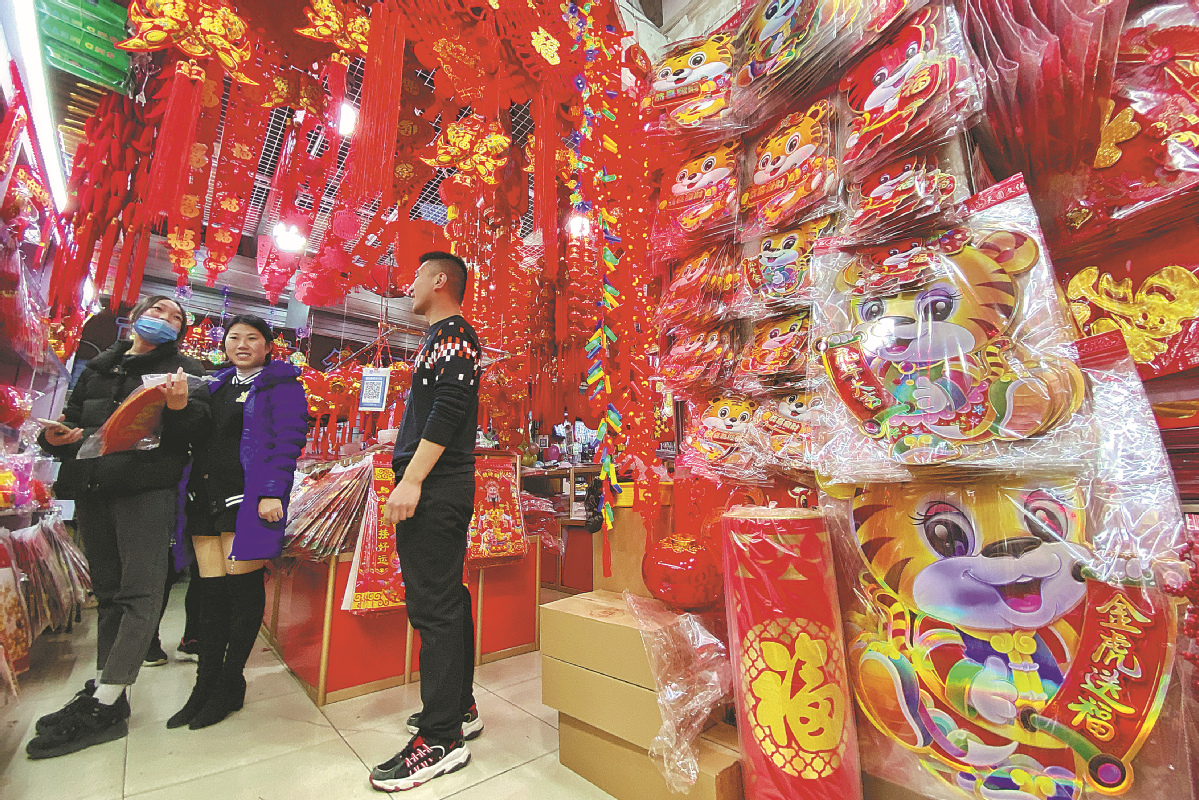 Despite odds, 2022 may help sustain sales boom in both urban and rural areas in the country
With New Year's Day and Spring Festival on the horizon, China's consumption market is expected to scale another peak, industry observers said.
More than others, catering and food sectors are expected to boom despite some challenges brought by the COVID-19 pandemic, they said.
The fourth quarter of this year has seen consumption in China peak, and the uptrend spread to some sections of the capital market as well.
In October, November and early December, shares of many companies in sectors like food, beverage and daily necessities rose.
For instance, shares of Kweichow Moutai, China's iconic high-end white spirit maker, were trading at 1,830 yuan ($287.3) on the Shanghai Stock Exchange at the end of September. By Dec 17, they jumped 12 percent to 2,050.7 yuan.
Similarly, shares of Yili Group, China's largest dairy maker, increased from 37.7 yuan to 40.96 yuan in the same period.
"Some sporadic COVID-19 cases in a few Chinese cities led to stricter government management. Coupled with the Beijing 2022 Winter Olympic Games from Feb 4 to 20, the population flow in some cities could be limited in the early part of the new year, which might affect the consumption market," said Fu Yifu, a senior researcher at the Suning Institute of Finance.
"Still, there is unceasing demand from consumers for necessities for the New Year and Spring Festival celebrations, and this is expected to boost the market," Fu said.
China Merchants Fund said sales of Chinese white spirit or baijiu are expected to increase with the holidays drawing near, as the scenarios of gifting and social gatherings are foreseen to become more frequent. Particularly, high-end spirits have seen a new round of price rises recently. The 2022 Spring Festival holiday will begin on Jan 31 and last till Feb 6, and Spring Festival itself will be celebrated on Feb 1.
"The run-up to Spring Festival has been a traditional peak consumption season in China, and consumer stocks, especially leading white-horse (blue-chip) stocks, will likely surge," said Yang Delong, chief economist at the Shenzhen, Guangdong province-based First Seafront Fund.
"Some white-horse shares with high brand value and potential will continue the growth uptrend in the long term. For instance, the climbing share price of Kweichow Moutai definitely gave a boost to many white-horse stocks. China's sustained supply-side reforms and consumption upgrade trend have boosted investor sentiment toward such consumer stocks," Yang said.
For Spring Festival earlier this year, city-level governments encouraged residents to stay at home rather than head to their hometowns. To be sure, the measure helped rein in the spread of the novel coronavirus. But, it also dented consumption, particularly in the catering and transportation sectors.
With the pandemic increasingly coming under better control and vaccination rates rising in China, the consumption market is foreseen to continue its recovery next year. What's more, the consumption structure and categories will continue to upgrade, experts said.
"The government's mature and calm response to the pandemic will help Chinese consumers to restore their confidence and increase their spending. The consumption upgrade trend in the country won't change, and consumers are expected to show more sophisticated demand in pursuing goods and experiences of higher quality," Fu said.
Earlier this month, the Political Bureau of the Communist Party of China Central Committee held a meeting and called for stabilizing the macroeconomy and keeping economic growth within a reasonable range. The top meeting also called for continuously expanding domestic demand and promoting the recovery of the consumption market.
Under the new dual-circulation development pattern, where the domestic circulation serves as the mainstay while the domestic and international circulations reinforce each other, China is committed to building a more market-oriented and world-class business environment, and consumption is playing a more important role than ever in driving economic growth.
Peng Wensheng, chief economist and research head at China International Capital Corp Ltd, said the government's recent guide to further promote consumption is worthy of anticipation. In 2022, the year-on-year growth rate of total retail sales of social consumer goods could be around 6.5 percent, Peng forecast.
In the first 11 months of this year, China's total retail sales of social consumer goods increased by nearly 14 percent year-on-year to 39.96 trillion yuan, according to the National Bureau of Statistics.
He also said that even though people's movements may be limited during the Spring Festival holiday in February, its negative impact on the consumption market could be less severe than that seen during this year's festival period, as the pandemic prevention and control measures have been more scientific and mature this year.
Next year, new types of consumptions, especially online shopping, are foreseen to continue their boom. Ever since the pandemic broke out, online shopping has played a critical role in supporting the market's recovery, and many local governments have introduced favorable policies to support online retailing.
"Digital technologies like 5G and artificial intelligence are spawning a large number of new scenarios and business formats in various sectors. They are also playing an important role in supporting high-quality development. China should continue to improve the building of information infrastructure," Fu of the Suning Institute of Finance said.
Besides, Chinese brands are foreseen attracting more young consumers. As the pandemic made the entire international situation uncertain, Chinese people stood united to fight the pandemic together. It has also helped strengthen people in China as a cohesive force with a distinct national identity, and thus more consumers have shown a higher recognition of domestic brands such as leading Chinese sports brands Li-Ning and Anta, Fu said.
Meanwhile, China is cultivating a group of distinguished international consumption cities such as Shanghai. As China is fostering the dual-circulation development paradigm, domestic cities find themselves as hotbeds of commercial activities.
"It is necessary to continuously improve the consumption environment in Chinese cities and help them attract more premium global brands. Next year, more measures are expected to be implemented to improve the building of international consumption cities," Fu said.
Earlier this month, the Ministry of Commerce and other authorities concerned jointly released a guide for commercial constructions at the county level. This was to complement construction activities in cities. The guide said by 2025, China would build a comprehensive county-level commercial network and system, with counties serving as the core and villages and towns serving as key areas.
The government will help upgrade daily consumer goods that rural residents use and encourage more rural retailers to cooperate with companies that own well-known brands to further grow their businesses.
Besides, many rural areas could develop local tourism through emerging segments like the bed-and-breakfast business, hold various activities to popularize local festivals, and thus attract more urban consumers, the guide stated.