Fauci dismisses claim Chinese lab produced coronavirus
---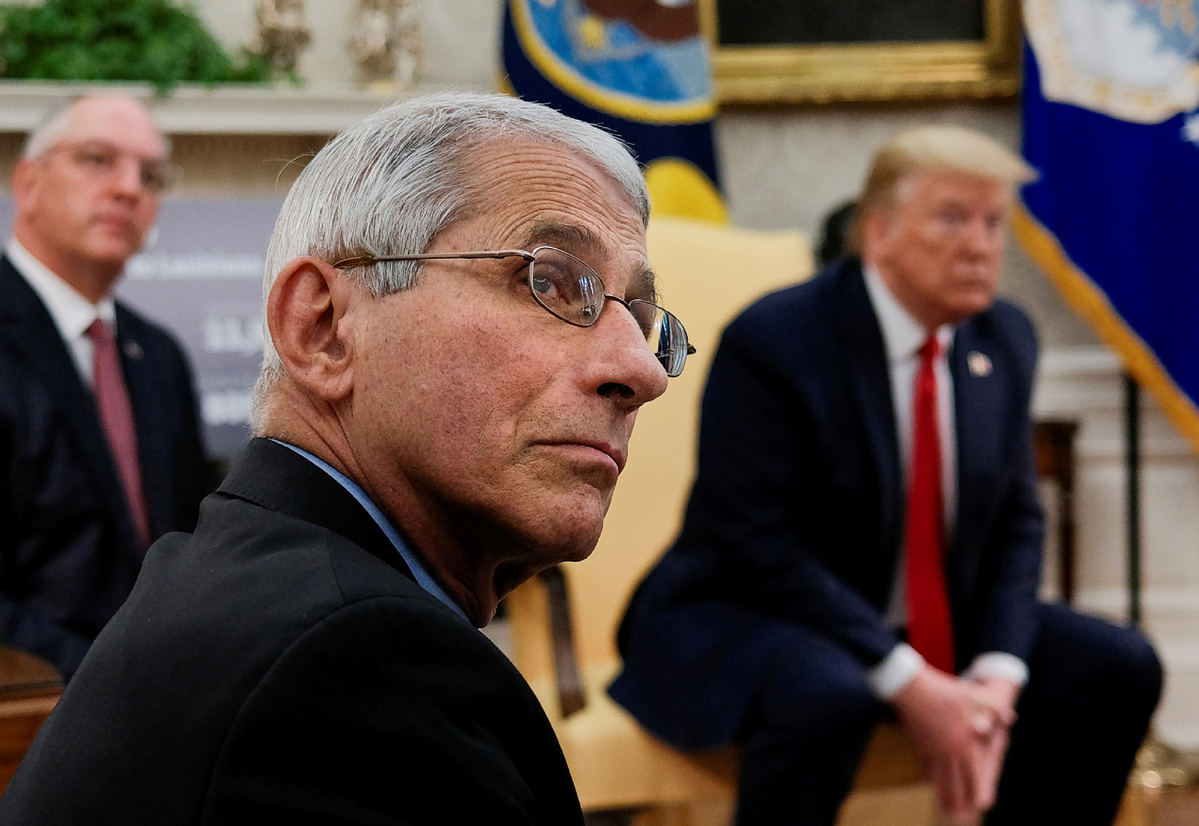 National Institute of Allergy and Infectious Diseases Director Dr. Anthony Fauci attends a coronavirus response meeting between US President Donald Trump and Louisiana Governor John Bel Edwards in the Oval Office at the White House in Washington, US, April 29, 2020. [Photo/Agencies]Dr Anthony Fauci, the US's top infectious disease expert and a member of the White House coronavirus task force, has dismissed theories that the coronavirus was either manufactured or accidentally released from a Chinese lab.
Fauci's comments in an interview with National Geographic on Monday directly contradict recent claims made by US President Donald Trump and Secretary of State Mike Pompeo.
Fauci said that available research indicates the virus evolved naturally.
"If you look at the evolution of the virus in bats, and what's out there now is very, very strongly leaning toward this [virus] could not have been artificially or deliberately manipulated— the way the mutations have naturally evolved," Fauci said. "A number of very qualified evolutionary biologists have said that everything about the stepwise evolution over time strongly indicates that it evolved in nature and then jumped the species.''
He said that "means it was in the wild to begin with. That's why I don't get what they're talking about [and] why I don't spend a lot of time going in on this circular argument".
US intelligence agencies said last week there was "widespread scientific consensus" the virus wasn't man-made or genetically modified.
But on Sunday, Pompeo said there was "enormous evidence'' that the virus originated in a Chinese lab.
"China has a history of infecting the world and they have a history of running substandard laboratories," he told ABC News. "These aren't the first times that we have had the world exposed to viruses as a result of failures from a Chinese lab."
Last week, Trump at his daily news briefing on the coronavirus, said he thought China "made a horrible mistake … they didn't want to admit," promising to release some type of conclusive report on the topic.
Fauci said scientists analyzing the virus' genetic code have consistently said there is strong evidence the coronavirus jumped to humans from animals in the wild, although it remains unclear how.
The World Health Organization and Fauci have said that all available evidence pointed to the virus being of animal origin, most likely bats.
In the past 45 years, scientists have said that at least three other pandemics have been traced back to bats, including Ebola, Middle Eastern respiratory syndrome, and the Nipah virus.
Fauci also emphasized in the interview the importance of keeping social-distancing measures and adequate testing procedures in place. He said there might be a resurgence of the virus as lockdown measures are lifted. "I don't think there's a chance that this virus is just going to disappear," he said.