Trump extends distancing policy to April 30
---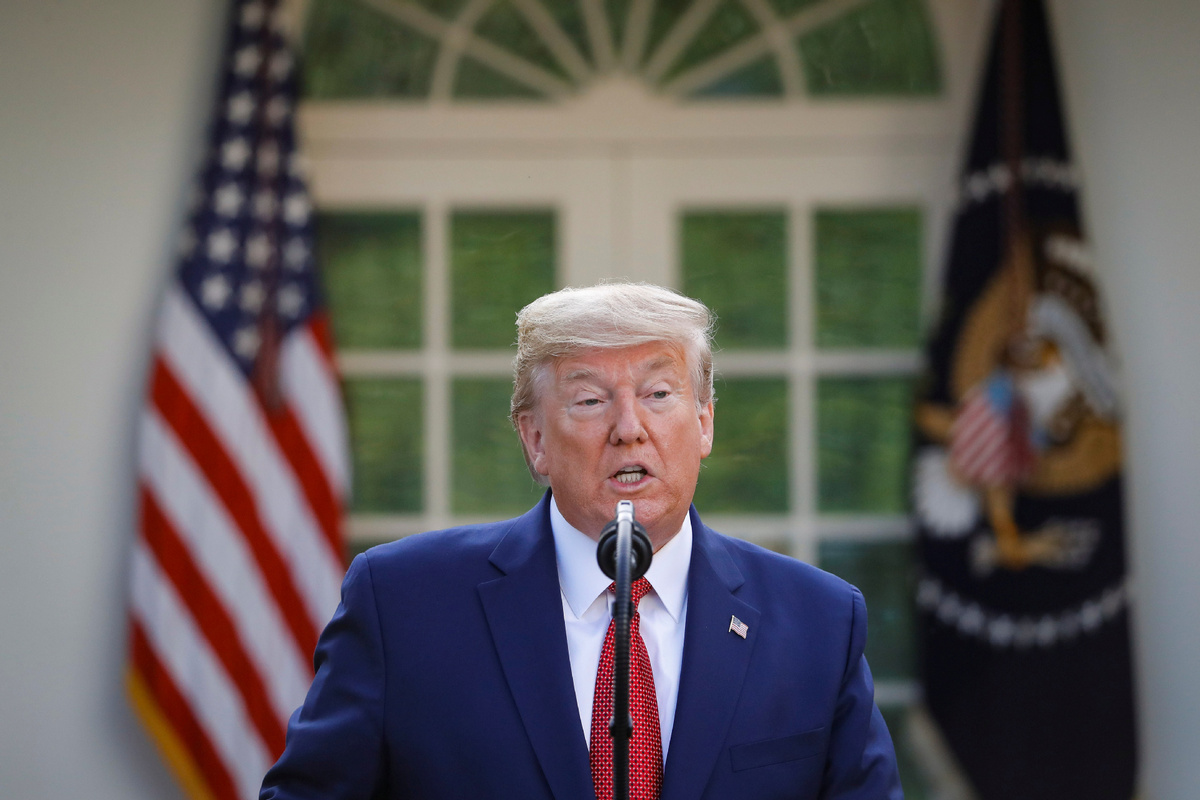 US President Donald Trump said Sunday thaUS President Donald Trump said Sunday that the federal government's current guidelines for social distancing would remain in place until at least April 30, overriding an earlier suggestion that the measures might be lifted by Easter (April 12).
Trump predicted that the peak of fatalities from the outbreak would come in "about two weeks".
"We can expect that by June 1, we will be well on our way to recovery — we think by June 1. A lot of great things will be happening," he said.
At a White House news conference late Sunday afternoon, the president also said he'd ask Congress to restore the full tax deduction for meals and entertainment. The deduction was eliminated in 2017, but Trump said he wanted to restore it "so companies can send people to restaurants".
Trump also announced that two large insurers, Humana and Cigna, will waive co-payments and deductibles to ease financial burdens on families affected by the coronavirus.
During the Rose Garden event, the president touted Project Airbridge on the same day that a planeload of medical supplies arrived in New York from China, the first in a series of flights over the next 30 days organized by the White House, a White House official said. The plane carried 80 tons of N95 masks and other needed medical and personal protective equipment, Trump said.
The airlift is a product of a team led by White House senior adviser Jared Kushner and a partnership between large US healthcare distributors such as McKesson, Cardinal, Owens & Minor, Medline and Henry Schein and the federal government.
At the same news conference, Dr Anthony Fauci, director of the National Institute of Allergy and Infectious Diseases, stood by his comments earlier that day to CNN. When asked to predict the potential impact of COVID-19, Fauci said that total US fatalities would be "between 100(,000) and 200,000. But I don't want to be held to that. … I mean, we're going to have millions of cases."
At the White House event, Trump said that if the US death toll is held to 100,000, "we all together have done a very good job".
According to the lastest figures Sunday from the Centers for Disease Control and Prevention (CDC), the US had 122,653 coronavirus cases resulting in 2,112 deaths.
Around the world, the coronavirus pandemic has claimed nearly 34,000 lives as the number of infections globally soared past 700,000, according to data compiled by Johns Hopkins University.
In the 24 hours before Fauci, a key member of the White House Coronavirus Task Force, delivered his dire prediction, Trump backed away from his proposed quarantine of the three states surrounding the US epicenter of New York City: New York, New Jersey and Connecticut.
Critics promptly called the idea unworkable, saying it would cause chaos in a region that serves as the economic engine of the eastern United States, accounting for 10 percent of the population and 12 percent of GDP.
"If you started walling off areas all across the country, it would be totally bizarre, counterproductive, anti-American, antisocial," New York Governor Andrew Cuomo said on CNN, also calling it "a declaration of war on states".
Trump backtracked on the idea, saying on Twitter that "a quarantine will not be necessary".
Instead, the CDC issued a "strong advisory" Saturday night asking residents of the three states to "refrain from nonessential domestic travel for 14 days effective immediately".
The three states account for about half of all coronavirus cases and deaths in the US. The advisory exempts workers involved in several "critical" sectors, including food, transportation, healthcare and finance.
"The fact of the matter is, people really aren't traveling a whole lot," New Jersey Governor Phil Murphy told ABC News on Sunday. "A travel warning we're fine with."
Elsewhere, Italy is closing in on 100,000 coronavirus cases, having already surpassed China's total. The number of deaths in Italy as of Sunday exceeded 10,000, the highest of any country in the world, according to figures from Johns Hopkins.
In India, Prime Minister Narendra Modi asked his nation's poor for forgiveness on Sunday, as the economic and human toll from his nationwide lockdown deepens and criticism mounts about a lack of planning.
Modi announced a three week-lockdown Tuesday, but the decision has affected millions of India's poor, leaving many hungry and leading jobless migrant laborers to flee cities and walk long distances to their native villages.
New Delhi announced a $22.6 billion economic stimulus plan Thursday to provide direct cash transfers and food handouts to India's poor.
In Spain, Prime Minister Pedro Sanchez announced Saturday that all nonessential workers would have to remain home until April 9. He said that Spanish workers would receive their regular salaries but would have to make up lost hours later.