WHO aiming for 2b doses of vaccine by end of 2021
---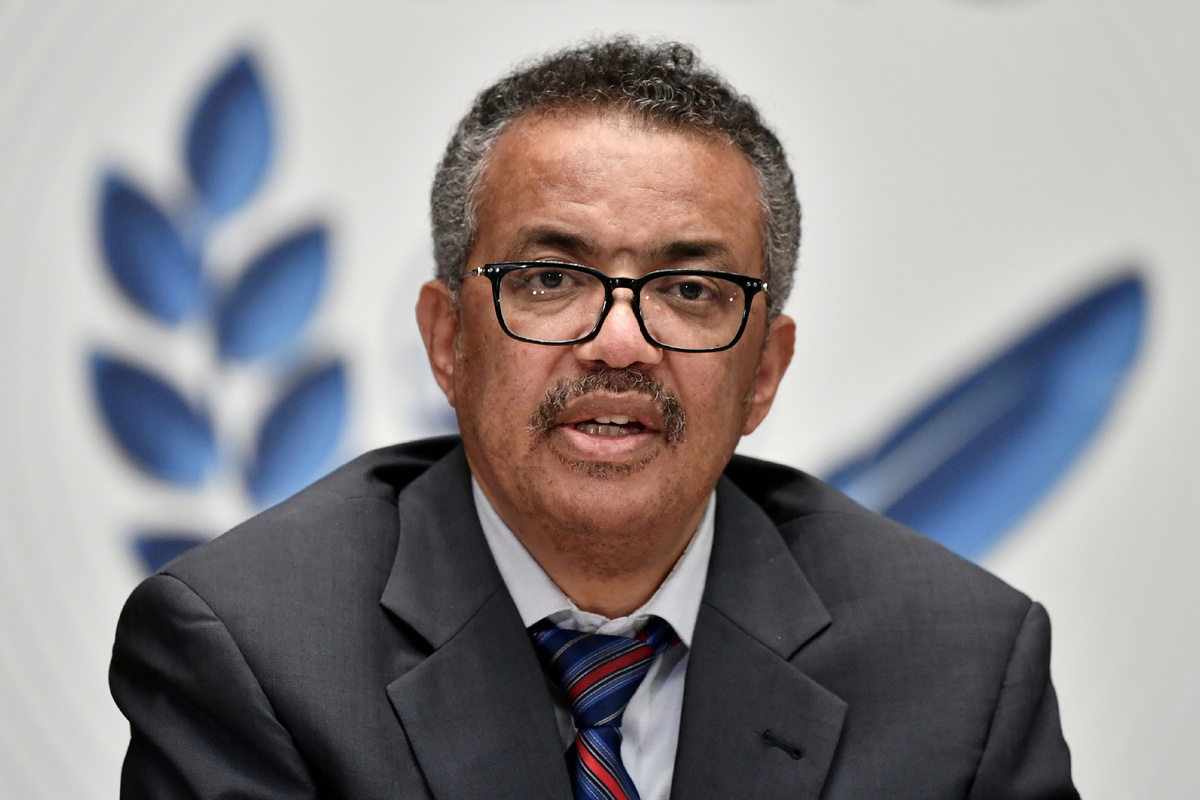 Global initiative seeks to ensure equal access when supplies are available
The World Health Organization said on Monday it hopes to deliver by the end of next year at least 2 billion doses of safe, effective vaccines through its vaccine initiative.
As of Monday, 172 countries were engaging with the initiative, which is known as the COVAX Global Vaccines Facility.
At present, nine potential vaccines are part of the dynamic portfolio, which is constantly being reviewed and optimized to ensure access to the best possible range of products.
WHO Director-General Tedros Adhanom Ghebreyesus said discussions are ongoing with four additional producers, and a further nine vaccines are currently under evaluation for the longer term.
"The facility is the critical mechanism for joint procurement and pooling risk across multiple vaccines so that whichever vaccine is proven to be safe and effective, all countries within the facility will be able to access them," he said during a virtual news briefing from Geneva.
He emphasized that the most important thing is that the mechanism enables a globally coordinated rollout.
The WHO is working with vaccine manufacturers to provide all countries that join the effort with timely and equitable access to all approved vaccines.
"This doesn't just pool risk, it also means that prices will be kept as low as possible," Tedros said.
He warned that it would lead to a prolonged pandemic if only a small number of countries got most of the supply.
"Vaccine nationalism only helps the virus," he said.
And he emphasized that the world has so far invested $12 trillion in keeping economies moving, but that investing in the COVAX Facility is the fastest way to end the COVID-19 pandemic and ensure a sustainable economic recovery.
"The success of the COVAX Facility hinges not only on countries signing up to it, but also filling key funding gaps for both the research and development work and to support lower-income economies within the facility," Tedros said.
Binding commitments
He emphasized that, in order to be able to secure enough doses to roll out vaccines, the next step for the partnership will be for countries to make binding commitments in support of the COVAX Facility. He added that the COVAX Facility offers a huge return on investment.
According to the WHO, there are more than 170 candidate vaccines, with seven in the final phase 3 of large-scale efficacy trials. None has been approved for general use so far.
Vaccines normally require years of testing and additional time to produce at scale, but scientists are hoping to develop a COVID-19 vaccine within 12 to 18 months.
Russia said on Saturday it has produced its first batch of a COVID-19 vaccine, after President Vladimir Putin announced the nation was the first to approve a vaccine, the Moscow Times reported on Monday.
Mexico will receive at least 2,000 doses of Russia's vaccine as part of its phase 3 clinical trials.
The European Union announced on Monday that it had concluded exploratory talks with US firm Moderna to purchase a potential vaccine after a similar talk last week with Germany-based CureVac.
It follows the EU securing COVID-19 potential vaccines from Sanofi-GSK on July 31 and from Johnson& Johnson on Aug 13 as well as an advanced purchase agreement with AstraZeneca on Aug 14.