Wang promotes multilateralism
---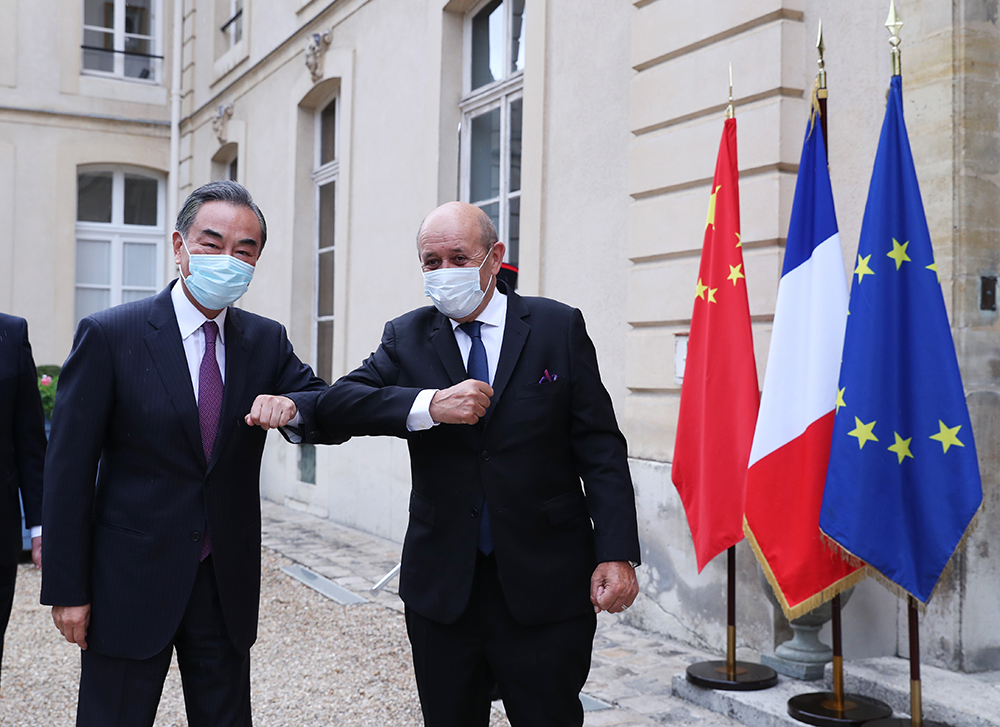 In meeting with French foreign minister, he calls it crucial to most countries' well-being    
State Councilor and Foreign Minister Wang Yi called for China and France to resist unilateralism and instead promote multilateralism as the consensus of the international community as he met with French Foreign Minister Jean-Yves Le Drian in Paris on Saturday.
Upholding multilateralism is the biggest point of consensus reached during this trip as it is essential for the well-being of the vast majority of countries, especially small and medium-sized ones, Wang said in France, the fourth stop of his European tour, following Italy, the Netherlands and Norway.
Considering that unilateralism keeps rising and some countries ignore international agreements and turn away from their commitments, Wang stressed that the multilateral mechanism and the world order established since World War II would be severely damaged without multilateralism.
As major responsible countries, China and France should safeguard the chief outcomes of international agreements and multilateral diplomacy, such as the Iran nuclear deal, and support the United Nations in playing its central role in international affairs, Wang said.
China supports France in continuing to play a leading role in tackling climate change, he said, and the two countries should support each other in the upcoming Conference of the Parties to the Convention on Biological Diversity in Kunming, China, and the World Conservation Congress in Marseille, France, both to be held next year.
The state councilor also underlined the significance of strengthening solidarity and cooperation between China and the European Union amid growing uncertainty in the world so as to maintain international security and stability and promote the development of all countries.
China is willing to work with the EU to press for positive outcomes from future China-EU political exchanges, to complete negotiations on the China-EU bilateral investment treaty and to uphold multilateralism and the free trade system with concrete actions, Wang said.
He said that this being his first official diplomatic tour since the start of the COVID-19 pandemic, it reflects how China values France as an independent major country and also considers the EU an important part of this multipolar world.
Hailing China-France ties as one of the most stable relationships between major countries, Wang said that the two countries should give full play to how their ties help promote China's relations with Western countries under the guidance of head-of-state diplomacy.
He called on China and France to promote bilateral cooperation in such areas as major projects, smart-city initiatives, the development of electronic automobiles and digital economy, and to jointly create a fair, open and nondiscriminatory business environment for enterprises in both countries.
Le Drian, for his part, expressed his country's willingness to deepen mutually beneficial cooperation with China in all areas, including the research and development of vaccines, as well as enhancing international cooperation in climate change and digital economy to reflect the two countries' model role in upholding multilateralism.
During Wang's stay in France, he also met French President Emmanuel Macron, had talks with Emmanuel Bonne, diplomatic counselor to Macron, and met with Laurent Fabius, president of the Constitutional Council of France.