US infections could reach 100K per day, Fauci warns Senate
---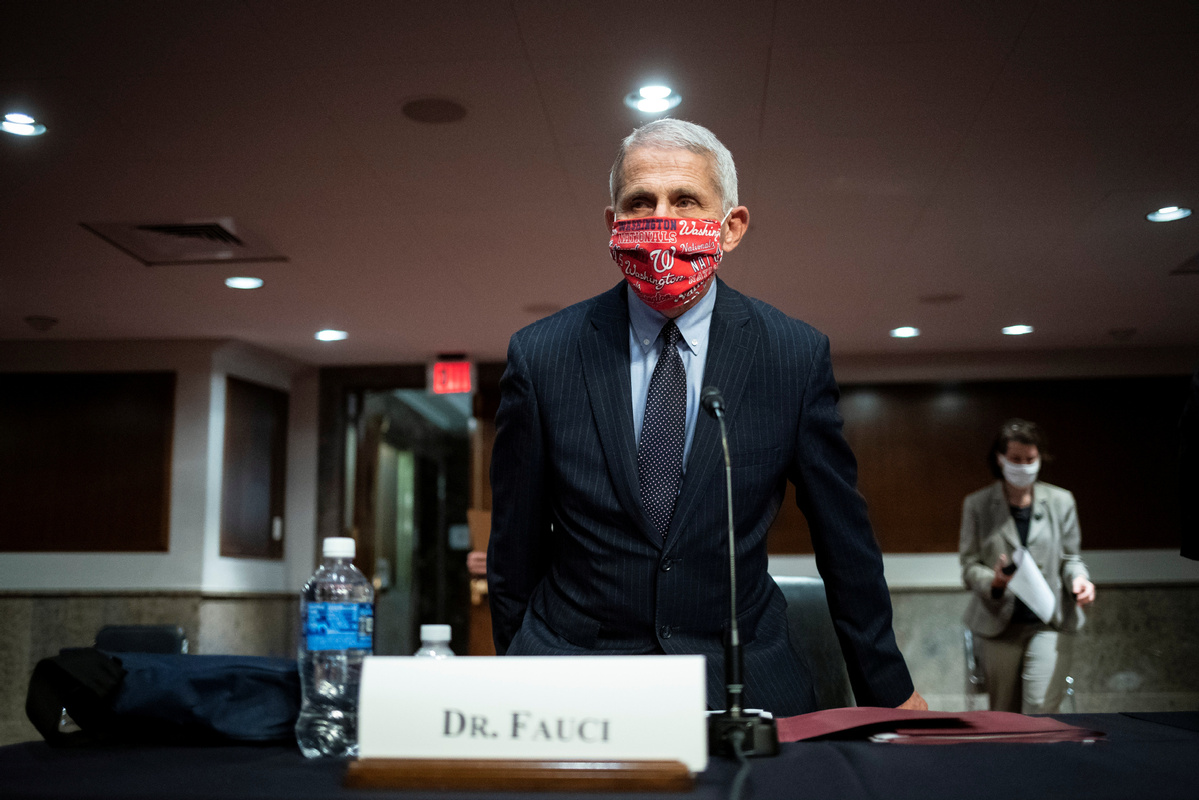 When Dr Anthony Fauci attended his first Senate hearing on the novel coronavirus pandemic on May 12, the US was reporting 20,000 new cases daily. Testifying in the chamber for the second time Tuesday, the country's top infectious disease expert warned that the daily caseload — now around 40,000 — could reach 100,000 without changes in people's behavior.
Fauci, the head of the National Institute of Allergy and Infectious Diseases, told a Senate committee that the precipitous spiral won't be tamed until Americans start following existing public health recommendations.
"The numbers speak for themselves," Fauci said, noting that about 50 percent of all new cases are coming from four states: Florida, California, Texas and Arizona — areas that recently reopened their economies but now have to roll back their efforts due to resurgent outbreaks.
"Clearly we are not in total control right now," Fauci said. "I am very concerned because it could get very bad."
As of Tuesday, COVID-19 deaths had exceeded 127,000 in the US, with more than 2.6 million people infected.
The European Union has excluded the US from its initial "safe list" of countries whose citizens will be allowed to enter for nonessential travel to the bloc starting Wednesday, the EU said Tuesday.
In the past week, 21 US states have reported positive testing rates above 5 percent, the level that the World Health Organization has flagged as concerning, Reuters reported.
"I'm very concerned, and I'm not satisfied with what's going on, because we're going in the wrong direction if you look at the curves of the new cases," Fauci said. "So we really have got to do something about that, and we need to do it quickly."
Fauci told lawmakers that some states are "skipping over some of the checkpoints" in the federal reopening guidelines, and that he had seen film clips of people congregating, often without masks and ignoring social distancing guidelines that health authorities "very carefully put out".
"We're going to continue to be in a lot of trouble," he said. "There's going to be a lot of hurt if that does not stop."
At the May 12 hearing, Fauci warned that reopening would inevitably lead to "really serious" consequences and that "even under the best of circumstances, when you pull back on mitigation, you will see some cases appear".
Fauci said Tuesday: "I guarantee you that because when you have an outbreak in one part of the country, even though in other parts of the country they're doing well, they are vulnerable."
He also said it was "extremely important" to have safe and effective vaccines available for everyone. But he cautioned that "there is no guarantee ... we'll have a safe and effective vaccine."
At the beginning of the hearing, Senator Lamar Alexander, chairman of the Senate Health, Education, Labor and Pensions Committee, highlighted the importance of wearing face coverings, saying that "unfortunately, this simple lifesaving practice has become part of the political debate."
The Tennessee Republican said President Donald Trump had the power to end politicization of mask wearing that suggests that "if you're for Trump, you don't wear a mask."
"That's why I've suggested that the president occasionally wear a mask," Alexander said.
Democratic presidential candidate Joe Biden on Tuesday took a swipe at Trump's "historic mismanagement" of the pandemic, accusing the president of "waving the white flag" as coronavirus cases spike nationwide.
"The president talks about, you know, manhood and, you know, and being strong, and you don't need the mask," the former vice-president said. "We absolutely need a clear message from the very top of our federal government that everyone needs to wear a mask in public."
Trump's reelection campaign argued that the president has been at the forefront of the country's pandemic response.
White House press secretary Kayleigh McEnany said Tuesday that the president has said he has no problem with masks, and that he encourages people to make whatever decision is best for their safety and to follow what their local jurisdictions say.
"CDC guidelines are still recommended but not required, and the president is the most tested man in America," she said. "It's his decision whether to wear a mask."
Also on Tuesday at another hearing held by the House Financial Services Committee, Federal Reserve Chairman Jerome Powell said the early reopening of the US economy has brought "new challenges" as shown by recent spikes in coronavirus cases.
"The path forward for the economy is extraordinarily uncertain and will depend in large part on our success in containing the virus. A full recovery is unlikely until people are confident that it is safe to reengage in a broad range of activities," Powell said.