US firms fear losing out with app bans
---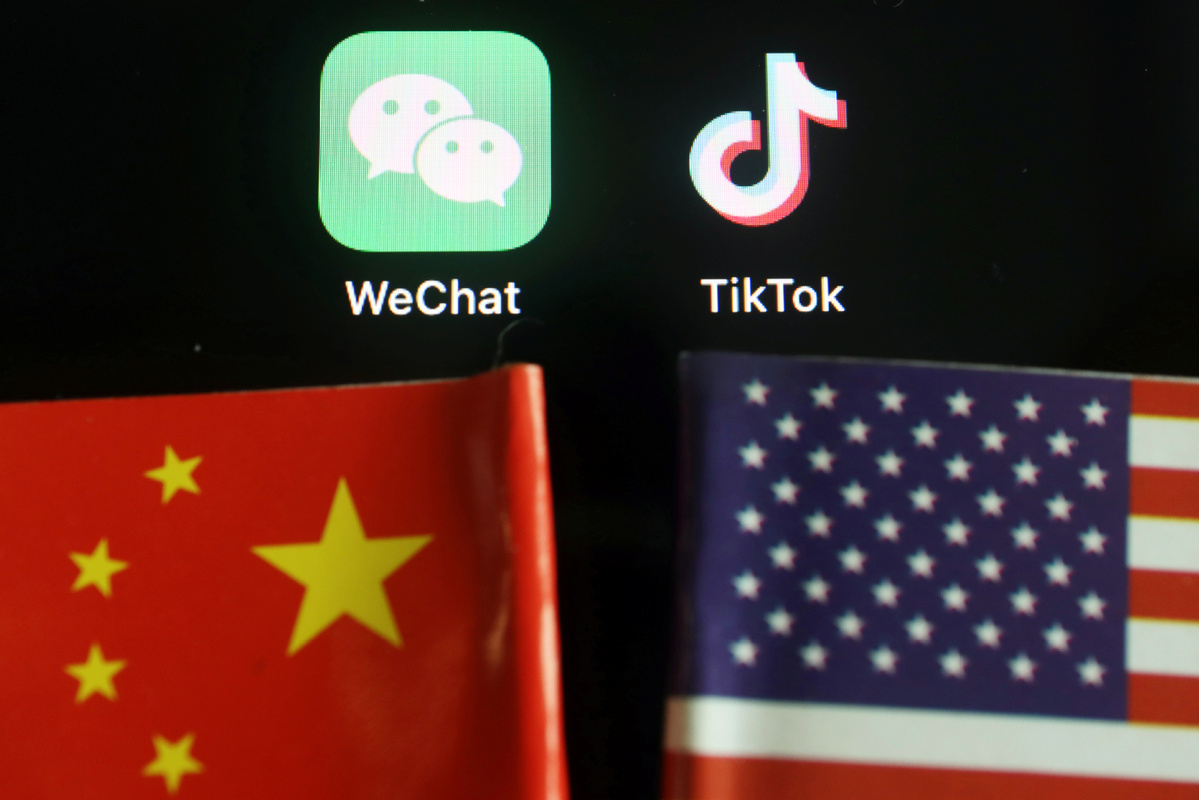 Moves against TikTok, WeChat opposed, with latter key for business in China
The US business community has expressed concerns that the Trump administration's orders to prohibit transactions with TikTok and WeChat are counterproductive and will harm US companies' interests.
US President Donald Trump signed two executive orders last week to ban US transactions with the two social media apps owned by Chinese companies for national security reasons. The orders will take effect on Sept 20.
US business leaders are worried that the scope of the executive orders are too broad, cause a further deterioration in the bilateral relationship and dent US companies' competitiveness in China.
"We have to keep our national security concerns in perspective. Not everything is the national security emergency," said Craig Allen, president of the US-China Business Council. He said it's "a very negative story" to use national security as an excuse for taking protectionist actions.
Allen shared his concerns over the executive orders with US and Chinese business leaders at two recent webinars examining the Trump administration's China policies amid the tensions between the countries.
WeChat, owned by Chinese tech giant Tencent, is the largest communication app in China. In the US,WeChat, unlike TikTok, whose primary users are young adults, is mainly used by overseas Chinese and global businesses with a presence in the Chinese market.
There's no exact analogue to WeChat in the US, in that it is a nexus point for everything from e-commerce and payments to communications and customer service, Allen said.
He said many US companies rely on WeChat to engage with their customers in the China market. On the payment side, WeChat is extremely important; it's one of the two major payments apps in China, he said.
"If American companies were not allowed access to those payments, it would clearly have commercial implications. Many American companies are also active and successful on WeChat mini programs, and this represents a rapidly growing segment for many American businesses," Allen said.
Since WeChat is the most widely downloaded mobile application in the China market, its removal from US app stores would limit the Chinese customer base for US handset manufacturers and, indeed, would help their competitors, he argued.
Important stakeholder
Tencent is important to the US video game industry as it holds stakes in a number of video game companies, such as Riot Games, Epic Games and Activision Blizzard. It also has significant stakes in Tesla and Snap, the maker of Snapchat.
"Its video-streaming platform in China is very important for many American content providers and restricting commercial engagement would negatively impact trade in the services area," Allen said."And it would deprive Chinese consumers of those services, and then deprive American content creators and broadcasters of access to a lot of revenue in the China market."
In the case of TikTok, Allen said the administration should "appropriately calibrate" the scope of this executive order.
"If we single out individual companies, we should anticipate that other governments will do the same for American companies," he said.
He also argued that the criteria that the Trump administration uses to restrict foreign companies operating in the US should be very clear.
In addition, the rule of law and due process should be fully given to foreign companies operating in the US market, Allen said, adding that "we need to treat Chinese companies in the United States as we wish American companies in China to be treated".
"I think there's a tendency right now, given the nature of the US-China relations, to call everything some kind of national security matter. We all know that's just not true," said Chris Marlin, president of Lennar International.
He shared his experience working with Chinese companies, which demonstrated resilience and quick responses during the coronavirus pandemic, to call for companies from both sides to work together to see "the longer-term success scenario".
William Zarit, chairman of the American Chamber of Commerce in China, said the "litany of policy changes, laws and executive orders" seems to have jeopardized the commercial relationship between the two countries.
"We've already seen a lot of actions coming to the US that we never expected and, frankly, I think a lot of the policies are politically motivated," Zarit said.