China's links with Europe strengthened
---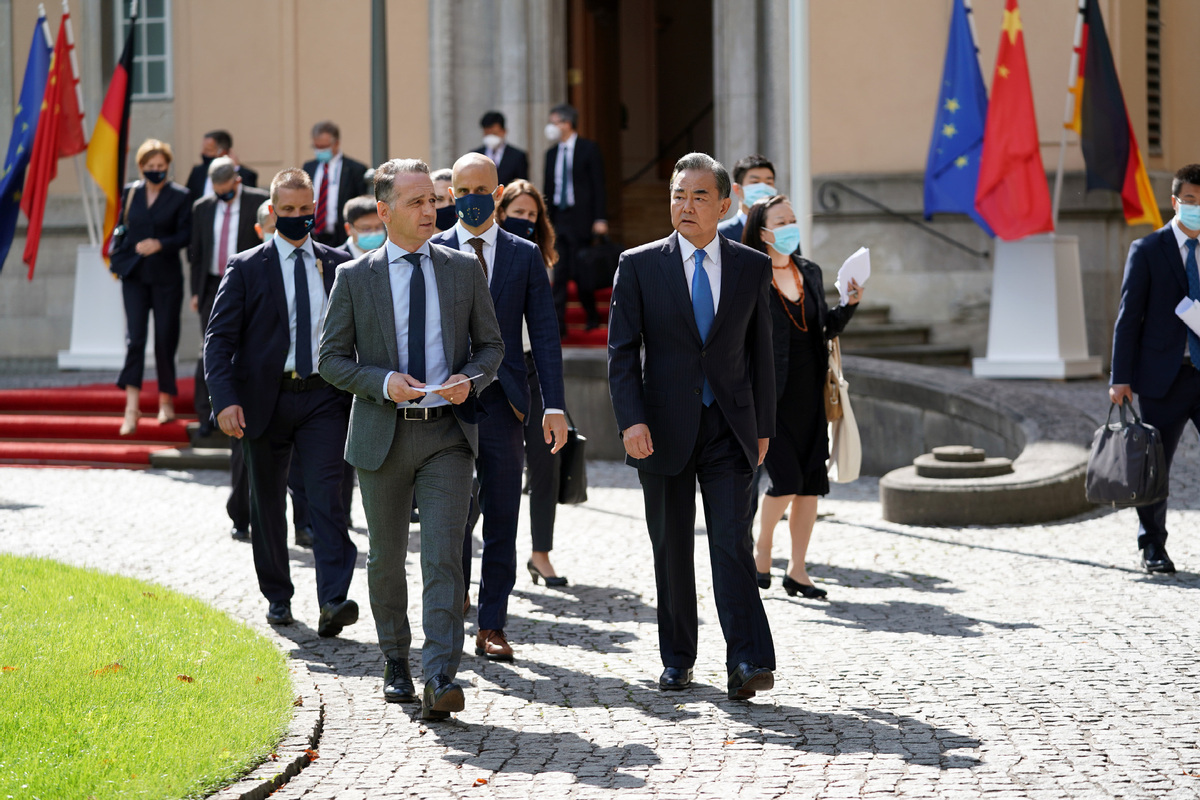 Wang says 5 nations he visited agreed to reinforce unity, oppose 'decoupling'
China and five European countries have agreed to strengthen joint efforts to bolster unity and oppose "decoupling" to prevent the world from slipping back into the grip of "the law of the jungle".  
The countries voiced a strong appeal to safeguard multilateralism, State Councilor and Foreign Minister Wang Yi said on Tuesday at a joint news conference with German Foreign Minister Heiko Maas in Berlin.  
Calling for China and Europe to enhance their support for multilateral institutions, Wang said both sides also agreed to maintain the overall status of China-EU relations and properly manage differences.  
He said the countries agreed to strengthen cooperation between China and Europe in the response to the COVID-19 pandemic and restart personnel exchanges and practical cooperation to contribute to global economic recovery.
Germany was the final leg of Wang's eight-day trip-after Italy, the Netherlands, Norway and France-which Wang said involved strategic communication between China and European countries amid rising uncertainties.
The five European countries, which value ties with China, are concerned about the deep recession in the global economy caused by the pandemic, rising unilateralism, attempts to "decouple" and heightened international rivalry, he said.
Wang called for China and Europe to carefully plan high-level exchanges and urged they finish negotiations over a bilateral investment treaty this year and sign a strategic plan for bilateral cooperation for the next five years as soon as possible.
Both sides should also work together firmly to promote international cooperation to tackle climate change and enhance digital cooperation, Wang said.
China and Europe have their own advantages in developing digital economies and share common concerns, Wang said, adding that they should insist on opening their markets to each other and promote the formulation of global digital standards and rules.
In his talks with Maas in Berlin on Tuesday, Wang said China and Europe are partners, not rivals. He said they should tolerate and learn from each other and inject more stability into the world, which is suffering from turmoil.
China and Germany also need to work together to oppose a "new Cold War", take concrete actions to maintain smooth operation of the global supply chain and reject "decoupling" and deglobalization, Wang said.
Maas said during the talks that "decoupling" is not in line with anyone's interests. He said Germany hopes to strengthen political, economic and cultural cooperation with China.
On Tuesday, Wang met with German President Frank-Walter Steinmeier, who reaffirmed his country's adherence to the one-China principle and its position of upholding multilateralism in global affairs. Steinmeier said Germany doesn't want the world to be divided into opposing camps.
Ding Chun, director of the Center for European Studies of Fudan University, said Wang's trip has obtained "encouraging outcomes "at a time when the United States has been engaged in unilateralism and attempts to isolate China.
The trip helps strengthen China-Europe ties, which are important for global governance and the recovery of the global economy, Ding said.
At a daily news conference on Wednesday, Foreign Ministry spokeswoman Hua Chunying said the world needs to choose between multilateralism and unilateralism, openness and isolation and cooperation and confrontation. She said China and Europe have an extensive and important consensus on the issues.
China hopes to continue to work with Europe to promote ties, safeguard multilateralism and free trade and contribute to world peace, Hua said.
Cui Hongjian, director of the Department for European Studies of the China Institute of International Studies, said China and Europe are both victims of unilateralism, and they need to repeatedly consolidate their consensus on cooperation as some European countries have been pressured by the US to "decouple" from China.
Noting the significance of China-Europe ties to global trade and multilateralism, Cui said bilateral cooperation will also help prevent "revival of the Cold War" and ease tensions between China and the US.